GMAT 700+ Express Preparation
---
Do you want to win a SCHOLARSHIP?
Do you want to study in a QUALITY business school?
Do you want to demonstrate to schools that you have what it takes to SUCCEED?
---
If you want to apply for a quality business school you will almost certainly have to sit the GMAT. The GMAT exam demonstrates to schools that you have what it takes to succeed, both, in the classroom and in your career.
But, no need to be a broken record and convince you of something that you already know. After all, you probably already heard that the GMAT exam has been the test of choice by the world's business leaders.
The GMAT measures your skills in the fields of English, Mathematics, and Analytical Writing. But where do you start? Without all that "what-do-I-do-next syndrome". Perhaps this is your most courageous moments, you've made the commitment to start.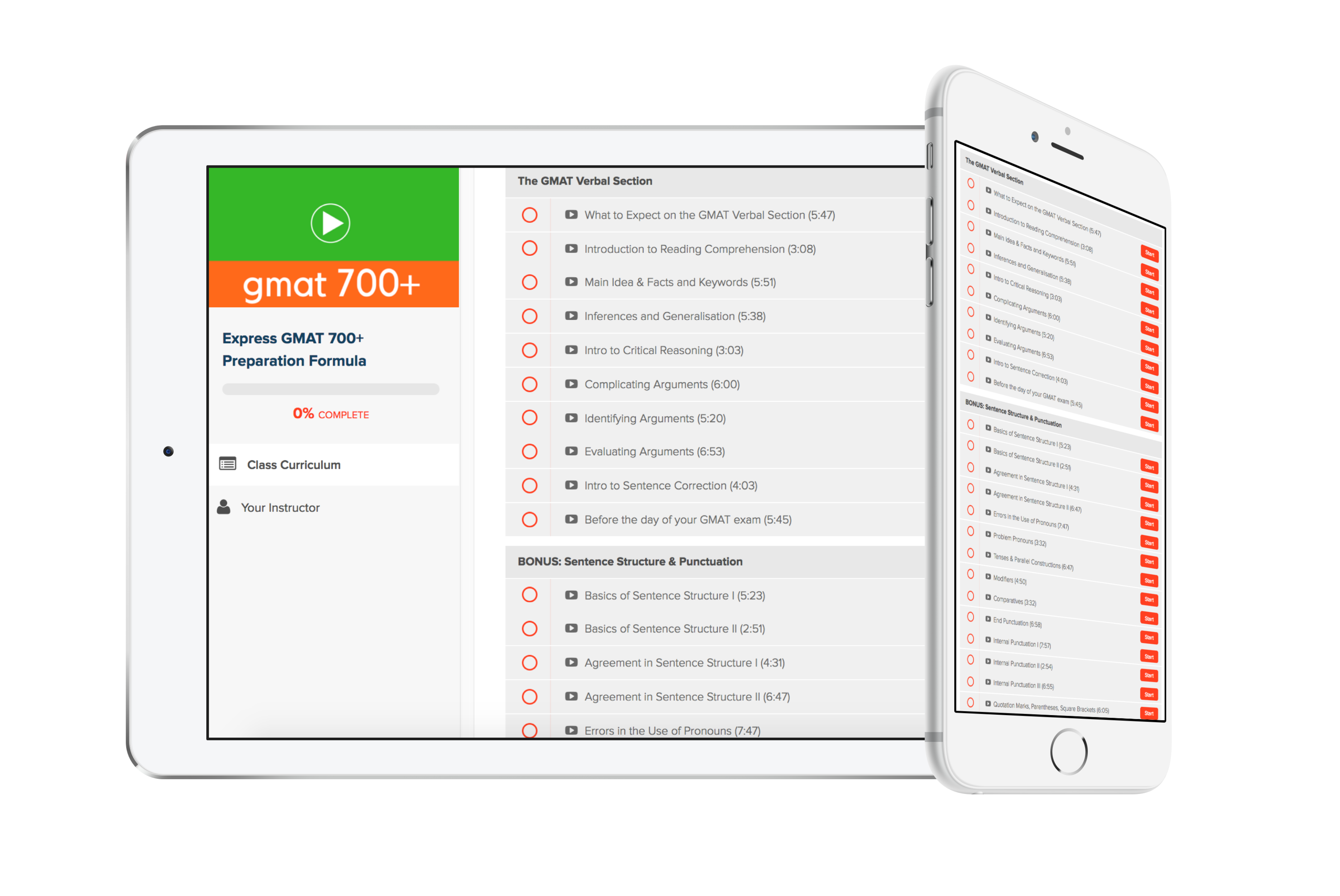 This course will show you how to prepare for your GMAT in the next 1 month. However, if you are in a slow mode, don't worry, you can prepare for the GMAT even in 3 months!
In this course you will get:
150+ lectures (10+ hours pure video content)
No blah-blah in videos or stretching lessons
Spot on information in a motivational way
Detailed Explanation of Analytical Writing, IR, Verbal and Quant
Strategies and Tactics
Practice modules: Students simulate each section
Life saving top tips to avoid loosing scores
The average test-taker takes three to six months to prepare for the test. But, if your exam is soon and you're running our of time, this is your ideal next step.
---
Don't be afraid of the GMAT anymore. We're here to help you with your preparation. And, remember, no other exam but GMAT lets you showcase the skills that matter most in the classroom and in your career.
Enroll with the course and enjoy the ride!
Course Content
Total learning:

156 lessons
Time:

7 hours
Introduction

0/4

Improve Your Time Management Skills

Introduction to the GMAT

0/8

Getting Started with GMAT

Preparing for Computer Adaptive Testing

What's Your Learning Style?

Learning Strategies: Top Tips – Part 1

Learning Strategies: Top Tips – Part 2

The GMATs Analytical Writing Section

0/5

About the (AWA) Analytical Writing Assessment

Create a Detailed Outline

Three-part Essay Structure

Tips & Strategies for the AWA

The GMATs Integrated Reasoning Section

0/5

Introduction to (IR) Integrated Reasoning

The 4 IR Question Types – Multi Source Reasoning

The 4 IR Question Types – Table Analysis

The 4 IR Question Types – Two Part Analysis

The 4 IR Question Types – Graphic Interpretation

The GMAT Verbal Section

0/12

What to Expect on the GMAT Verbal Section

Introduction to Reading Comprehension

Main Idea & Facts and Keywords

Inferences and Generalisation

Intro to Critical Reasoning

Intro to Sentence Correction

Sentence Correction: Apostrophes & Commas

Sentence Correction: Problems With References

Before the day of your GMAT exam

Sentence Structure & Punctuation

0/14

Basics of Sentence Structure I

Basics of Sentence Structure II

Agreement in Sentence Structure I

Agreement in Sentence Structure II

Errors in the Use of Pronouns

Tenses & Parallel Constructions

Quotation Marks, Parentheses, Square Brackets

The GMAT Quantitative Section

0/7

Understanding the Quantitative Section

Question Type: Data Sufficiency

Sample Question: Data Sufficiency

Question Type: Problem Solving

Important Math Techniques

The GMAT's Math Content Review

Arithmetic

0/29

Special Types of Defined Operations

Factors, Multiples & Divisibility

(GCF) Greatest Common Factor

Divisibility Rules – Part 1

Divisibility Rules – Part 2

Prime & Composite Numbers

Operations with Real Numbers

Multiplying & Dividing Integers

Multiplying & Dividing Fractions

Adding & Subtracting Decimals

Commission & Rate of Change

Counting Problems and Probability

Algebra

0/18

Translating Expressions and Equations

Combining Like Terms and Polynomials

Solving Literal Equations & Inequalities

Solving Compound Inequalities

Multiplying and Factoring Polynomials

Solving Quadratic Equations – Part 1

Solving Quadratic Equations – Part 2

Practical Exercises – Part 1

Practical Exercises – Part 2

Systems of Equations with Two Variables

Problem Solving with Word Problems

Geometry

0/12

On Screen Explanations for Data Sufficiency

0/20

Data Sufficiency Question 1

Data Sufficiency Question 2

Data Sufficiency Question 3

Data Sufficiency Question 4

Data Sufficiency Question 5

Data Sufficiency Question 6

Data Sufficiency Question 7

Data Sufficiency Question 8

Data Sufficiency Question 9

Data Sufficiency Question 10

Data Sufficiency Question 11

Data Sufficiency Question 12

Data Sufficiency Question 13

Data Sufficiency Question 14

Data Sufficiency Question 15

Data Sufficiency Question 16

Data Sufficiency Question 17

Data Sufficiency Question 18

Data Sufficiency Question 19

Data Sufficiency Question 20

On Screen Explanations for Problem Solving

0/20

Problem Solving Question 1

Problem Solving Question 2

Problem Solving Question 3

Problem Solving Question 4

Problem Solving Question 5

Problem Solving Question 6

Problem Solving Question 7

Problem Solving Question 8

Problem Solving Question 9

Problem Solving Question 10

Problem Solving Question 11

Problem Solving Question 12

Problem Solving Question 13

Problem Solving Question 14

Problem Solving Question 15

Problem Solving Question 16

Problem Solving Question 17

Problem Solving Question 18

Problem Solving Question 19

Problem Solving Question 20

In Conclusion

0/2
This course offers 100% Guarantee with Your 30 days Refund Policy!
Instructor
Examizy is the Test Prep Online Platform that specialises in Effective Coaching and Preparing Students Worldwide to sit for Internationally Recognised Examinations like IELTS, TOEFL, GMAT, GRE, SAT, ACT for Higher Institution Enrolment. Examinations can pose a real threat in the success of one's professional career and we are ready to help students overcome such obstacle with ease. Examizy - so Exams can be Easy!